by Dreama Vance
(To review this series from Part One, go here.)

This is the new way to eat your sandwich! These are ideal ways to eat living food in a comfortable, familiar manner. You can buy coconut wraps and flax wraps online now. All the work has been done for you! Just like making a sandwich, pull out your wrap, add your filling, roll it up and enjoy.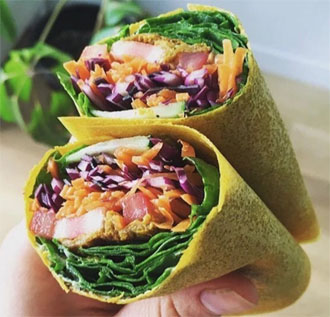 There are many living food recipes that remind us of old favorites like tuna salad and egg salad. There are veggie burgers and "fish" sticks, all completely vegan and delicious. These are easy to make and great to throw together for lunch time. Pâtés like "not-tuna salad" will keep for a few days extra in the fridge, so you can make ahead and pull out your filling when it is time to make your wrap. Patties like veggie burgers can be frozen for future use. You can easily defrost them and use the same day.
Scoops are a vegetable that serves the purpose of and replaces bread. Things like romaine lettuce, a cabbage leaf, and my favorite, a napa cabbage leaf, all hold your filling and extras, just like a sandwich.
My very, very favorite way to eat a living food sandwich, though, is to make a SWITCH. I discovered this secret when we used to have breakfast burritos on the weekend. When I decided to eliminate wheat from my diet, I decided to put all of my breakfast burrito stuff in a bowl and eat it with a fork. It was sooo much better! You could really taste all of the ingredients. They came alive without being muted by bread or wheat flour. This is exactly what happens when you make your living food sandwich in a bowl. Stop and think about it. Really, what is the purpose of bread in a sandwich? Doesn't it really just take the place of a plate? It just acts as a shelf for the filling of your sandwich.
The key is to put only the things you would normally put in your sandwich into your bowl. The good thing is you can put lots more of the good stuff in, like a thick Dagwood sandwich, and still eat it without making a mess! Plus, you can add those juicy tomatoes and not drip them on your shirt! Don't you usually add lettuce and tomato to your sandwich? I always build mine with greens on the bottom, mix in your mayo, add your filling, top with tomato, sprouts, whatever you like, and dig into the super-good flavors.
You will be amazed at how good it is. It is so much better without the bread! I love cucumber and arugula sandwiches so I just scrunch up some baby arugula in a bowl, add my homemade nut "mayo," stir it into the arugula, top with sliced cucumbers and sliced tomatoes and that's it! You can do exactly the same with a veggie burger. You have to try it to believe it, but it actually does have more taste and flavor than it does on bread. The bread dampens the taste. Without the bread, those fresh veggies just shine with juicy goodness.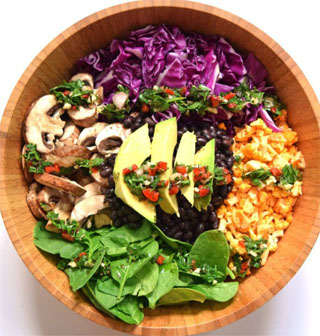 Don't add any other ingredients than what you like on your sandwich. This is not a salad. It is a sandwich in a bowl. You can add more of what you normally put into your sandwich, but not a bunch of other things. You can load up on all of the things that go into a sandwich and eat as much as you want. There is no bread to weigh you down and your meal will leave you feeling light, satisfied, and refreshed.
It is so simple and easy to eat this way. I could feel a difference when I quit eating bread and wheat products. Many people who go gluten-free comment that they just feel better. That is probably because wheat processed into flour is a bit pro-inflammatory in the body.
Plus, did you know that wheat has 15 opioid elements that interact in a morphine-like manner with your brain?
Changing our habits takes effort. This Return to the Garden series of articles is designed to encourage you with simple ways you can begin to transition. When you begin the journey of making changes in the food you eat, you see from a certain perspective. Just like driving in a car when you start out on a trip, you are looking forward and moving toward a destination.
Once you get to where you are going, you see from a different perspective. The journey is behind you and your focus is now not on the trip, but on your destination. In other words, you have arrived. It doesn't mean you didn't enjoy the journey, because you should, by all means! But the point is that you want to get to where you're going. It is here, when you arrive, that the blessings unfold like a bouquet of flowers.
Yes, you will experience many benefits along the way, more energy, balanced weight, better sleep, better concentration, less brain fog and many other physical, emotional, and mental benefits. All of these things can show up as you transition. But when you are no longer "working" to get there, when you have finally achieved your goal, that is when you can really notice the other wonderful things that take place in spirit.
It has taken me almost 18 years to discover the connection between raw, living food and spirituality. Almost from the beginning of my introduction to this way of eating I intuitively knew there was a connection. But how exactly did it work? There are many who talk about the benefits received physically, emotionally, and mentally. However, there just is not much information about the spiritual changes. People will tell you they "feel more alive," or they feel "more connected." Dr. Gabriel Cousens has a book on the topic, a tome really, that talks about our subtle energy bodies and 72,000 nadis. But what does all of that mean on a practical day to day level?
Here are the secrets I have discovered and want to share with you, for it is truly the spiritual benefits that make the effort to eat this way so worthwhile.
First and foremost, eating this way changes our consciousness. It took me 8 years after becoming a vegan to realize that veganism is about consciousness. Elevating consciousness is the reason spiritual teachings of old tell us to eat a vegetarian diet. Ancient teachings didn't have to tell us not to eat processed food because there wasn't any! But in today's world, processed "food," like the plague it is, must also be avoided. When you eat a primarily raw and living food diet even deeper changes happen in consciousness. It is your consciousness that transitions. You see life from a different level.
You experience a Freedom you weren't even previously aware was missing. Once you reach this level of consciousness, one of the things you will be able to do is look back at your old self and see how you were bound to the miasma of 3D consciousness because of your food choices. It literally appears to stick to you, like stringy glue. You don't see this when you are functioning at the level of 3 D because you are in it and experiencing life from that point of view. But as you rise in consciousness and are freed from those trappings, you can look back and see it. It is incredibly liberating.
The second experience is Joy. This Joy, I think, comes from that higher state of consciousness as it resides with you no matter the outer circumstances of life. I have written about this Joy in previous articles and I know many of you know joy. I can only tell you that when I changed to a vegan diet, within two weeks that Joy descended upon me, almost like the descent of Grace, and it has never left me, not even in difficult and trying, soul-testing times.
The third thing is Communion. You begin to experience an actual communion with the food you eat. You will actually feel happy just by picking up your peach or your apple or cucumber. You will begin to "see" life in them. You will feel it, sense it. The life in the food begins to feed you in a totally different way. It is this experience, life communing with life, this opening to spirit that unveils itself when we come into harmony with nature with our food choices that I want you to understand.
This harmony begins to resonate within your being, connecting you to all life. You feel that connection all the time, not just once in awhile, or during deep meditation. Compassion, beauty, peace, these are the fruits of the spirit we receive when we eat the fruits and foods of the garden.
Tell a friend…