by Owen K Waters
This article extends the information contained in the article, In Space, No One Can See The Stars. It points out how the magnetosphere, as well and the atmosphere, interferes with the passage of light, transforming it from its metaphysical, invisible state to a physically visible state.
In its free-traveling state, light is composed of three energy charges – electric, magnetic, and etheric. The nonphysical etheric energy encases the other components, making the light invisible to physical eyes. When a particle of light hits a barrier, or is interfered with to the extent that it changes course, it loses its etheric charge. The Earth's atmosphere diffracts light, making it change course, as does its magnetosphere.

The Earth's magnetosphere is a zone of magnetic energy which extends for many thousands of miles into space and is blown along by the electrically-charged solar wind. Magnetic energy and etheric energy interact with each other as do magnetic energy and electric energy. In cosmology, the reason that "dark energy" (etheric energy) and "dark matter" (etheric matter) are known phenomena is because of their interaction with gravitational fields.
Like the atmosphere, the magnetosphere interferes with light enough to make it become visible.
The Solar Wind Carries the Magnetospheric Wind Away From Earth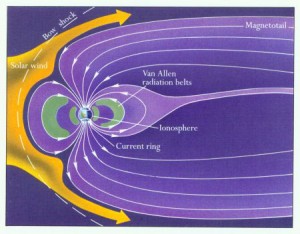 The variable direction of the magnetospheric wind accounts for astronauts having seen stars only sometimes. Neil Armstrong, on his way to being the first person to walk on the moon, reported that he could not see the stars while on the way to the moon. His Apollo 11 flight was launched shortly after a new moon. Had they flown toward a full moon, they would have been enveloped in the downwind side of the magnetospheric wind as the Sun blew it from the Earth in the direction of the moon. As it was, they could only detect stars through the telescope-equipped navigation system – a device which does interfere with the passage of light enough for a navigation star to be detected.
Curiously enough, his command module pilot later reported being able to see stars visibly once he was in a low altitude orbit around the moon, which would mean that the moon's magnetosphere made such sightings possible.
Why Light Becomes Visible
When light hits a barrier and is forced to change course, its non-physical etheric energy component carries on as if no barrier had been encountered, much like a ghost passing through a physical wall. The physical (electromagnetic) component of the light, now diverted onto a different path and free of its nonphysical shroud, becomes visible.
The Dark Light Effect is that light – which consist of etheric, magnetic, and electric energies – travels through free space in an etherically-cloaked state until it encounters a reflective barrier or becomes encumbered by a physical or magnetic filter, at which point it becomes separated from its etheric component, becoming uncloaked and physically visible.
Tell a friend…