by Owen Waters
The metaphysics of today is the physics of tomorrow. By studying spiritual metaphysics, you get a head start in understanding the mysteries of the universe.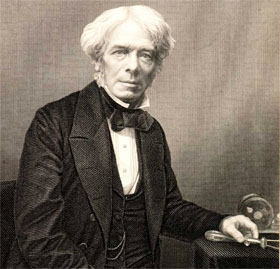 For example, two hundred years ago, electricity was still a huge mystery. Back then, a few visionaries like Michael Faraday uncovered more and more information about the nature of electricity. Once it became possible to generate electricity, it powered the Industrial Revolution and then went on to produce the Electronics Era, which soon morphed into today's Information Revolution.
This enormous chain reaction of technological evolution was made possible by the original curiosity of just a handful of visionary mystics. Now, imagine what the mystic insights of today's world could do for tomorrow's world. For example, the next energy to be understood is etheric energy. A more subtle cousin to electricity, etheric energy is the life force that streams towards us from the Sun, energizing and motivating all forms of life.
The mastery of etheric energy will lead to far more wide-ranging advances than electricity ever did. Within etheric energy, lie the keys to powerful healing modalities, pollution-free energy, and many other valuable innovations. Just the advent of abundant, inexpensive energy will transform the world, eliminating poverty and much of today's third world suffering.
Etheric energy is life energy. It is the energy that passes from spiritual healer to patient. It is the vitality or life force contained within air, water and food. It is the mystery energy which powers the endless orbit of electrons in their atoms and planets around their suns.
Etheric energy has been known by many other names – prana, life energy, vital life force, chi or qi, orgone, universal life force, odic force, cold electricity, scalar energy, tachyon energy, radiant energy; the list goes on.
Cosmologists – scientists who study the structure of the universe – are actually already on the trail of etheric energy. They have detected its presence in the cosmos through its gravitational side-effects, but they haven't been able to see it, so they call it 'dark energy.' The existence of dark energy – and its related dark matter – is one of the great, unanswered mysteries of science today. According to the observed movements of galaxies, it is calculated that 23% of the universe consists of dark matter and 73% of the universe consists of dark energy.
The universe, it would seem, is filled with unseens. At least, to the limited capabilities of physical eyes. When a cosmologist stares at a clear, night sky, wondering where all the missing energy and matter is in the inky blackness of the depths of space, it would come as a surprise to them if they knew that a clairvoyant – a person who has developed the ability to see subtle energies – sees the same night sky very differently.
It may sound unconventional, even rebellious to tradition, to suggest that a scientist should ask a clairvoyant what they perceive, but it has been done before, and with breakthrough results. For example, in the mid 1800s, one of the top scientists of all time did exactly this.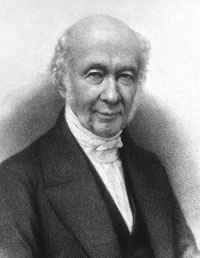 Carl von Reichenbach had heard that clairvoyants can see a subtle energy of which science was unaware. The fact that he, like most people, lacked clairvoyant vision did not deter him. Such a minor complication was not to be an obstacle to his curiosity and his desire to understand this new form of energy.
So, for his experiments, he hired a group of skilled clairvoyants to describe to him what they could see. He cataloged the appearance and behavior of etheric energy, which he called the 'odic force,' around substances such as magnets, crystals, wood and metals.
Today, a cosmologist could, if they dared to be that adventurous, ask a skilled clairvoyant what they see in the clear, night sky. The clairvoyant would report that they see the etheric energies that surge through the universe. To their subtle perception, etheric energy does not appear in the least bit dark. In fact, it glows brightly with the light of its own life energy. To them, the night sky is filled with a brilliant interplay of pure and magical, etheric light.
Etheric energy is one of the three fundamental types of energy in the universe. These three energies are electric, magnetic and etheric. Electric energy operates at a right angle to magnetic energy. The third energy of Creation, etheric energy, operates at yet another right angle to the other two.
Physical matter is made from electromagnetism, which is the interplay of electric and magnetic energies. Etheric matter is quasi-physical, i.e. solid only to the subtle senses, and it is made from etheromagnetism, which is the interplay of etheric and magnetic energies.
Etheric energy and etheric matter are the missing components in today's cosmology. Etheric energy is the mysterious 'dark energy' and etheric matter is the mysterious 'dark matter.' Knowing that it can be seen by the subtle senses certainly makes it a more immediate candidate for study and research.
Just the fact that 'dark' or etheric energy reveals its presence through its gravitational effects implies that its understanding could lead to control over gravity, and the introduction of weightless, high-speed flying vehicles.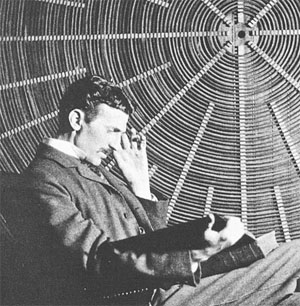 The possibilities for research into this fledgling field are almost unlimited. For example, many of Nikola Tesla's experiments involved a strange new form of energy that he called 'cold electricity.' When his experiments are reviewed in the light that cold electricity is none other than etheric energy, then they begin to make a lot more sense. Etheric energy is the third energy of Creation. It is not a form of electricity. Etheric energy and electric energy share the common bond of interacting with magnetic energy. They bring to life the magnetic fabric of space when they intertwine with it to invoke physical electromagnetic energy and quasi-physical etheromagnetic energy.
Spiritual metaphysics provides a head start in understanding the mysteries of the universe. The sooner today's scientists search within for understanding, the sooner the world will see them emerge as the modern-day visionaries of science.
When a deeper understanding of etheric energy is achieved, society will reap many benefits, ranging from powerful healing machines and precise weather control to clean, unlimited energy and travel to the stars.
*Owen Waters is the author of The Shift: The Revolution in Human Consciousness.
Tell a friend…