by Owen Waters
In order to understand the nature of evil, it is more revealing to study its underlying nature and then translate that into physical reality.
In a universe filled with love and light, both of which are freely available to all, the universal flow passes through people, empowering them as it passes. However, some people try to keep as much love and light as possible for themselves, interrupting the natural flow.
It Shows Up in the Human Aura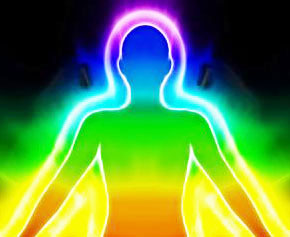 This act of restricting or stopping the natural flow produces a tell-tale appearance of darkness in the aura of that person. A person's aura can be seen by a clairvoyant, or by anyone else with enough practice. However, you don't have to practice seeing auras in order to know what is in them. Everyone senses the auras of others and reacts according to the meaning of that which they sense. Intuitively, you know everything you need to know about a person when you first lay eyes upon them, or even upon their photograph.
Is there, for example, a secret agenda behind the words that a certain person is speaking? Here, a little inner sensitivity goes a long way in providing such answers.
The human aura is an envelope of etheric energy surrounding the body. Etheric energy is pre-physical energy, more subtle than the electromagnetic energy which makes up physical matter. In the spirit realms, which you visit each night as your body sleeps, etheric energy can be plainly seen as a subtle light which illuminates the environment.
Etheric energy also makes up the subtle matter from which your astral or spirit body is composed. The aura reflects the thoughts and emotions of the person through colorations in its appearance. Dark, dense colors mean an absence of love and light. The light referred to here is etheric light, not physical light.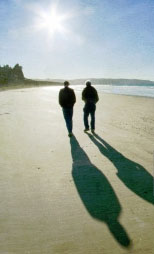 The Definition of Evil
Cold is the absence of warmth.
Ignorance is the absence of wisdom.
Evil is the absence of light.
The Benevolent Nature of the Universe
Love permeates everything. The universe, and everything in it, was created by three fundamental principles of original consciousness – intent, love, and motion. Love is the medium that fills the envelope of the universe while Divine Intent provides the energy for its active function.
Divine Love is in the air. It even fills the apparent emptiness of space. It is the fabric of the universe and it is a mere thought away at all times to those who open their hearts to this all-pervasive consciousness.
The Antidote to Fear
The antidote to fear is love, and there is no lack of love in the universe. The untangling of established, fear-inducing beliefs can be a challenge. In this case, meditation should be used to find your inner balance and discover the common sense that enables such beliefs to be dissolved.
If you have a stubborn, fear-based belief that persists because it seems correct based upon the facts, ask your inner self to heal that fear. Your inner self is your soul and, despite claims by worldly, outside parties, your soul is your best connection to true, spiritual guidance. When it comes to personal decisions about life, your soul knows you better than anyone in the outside world does, so why go to anyone else for personal advice?
Unkind People are Repelled by This
You should be aware that your spiritual power fills your aura, turning it into a force field of defense against those who might try to intrude into your personal space in order to gain some type of advantage. So, at the end of a daily meditation session, pay attention to the aura surrounding and permeating your body, then visualize it being filled with the love and light of the universe.
When you visualize your aura being filled with the love and light of the universe, not only will it make your day unfold with smooth synchronicity, it will make people of dubious intent want to keep away from you. This is because auras filled with light disturb people with dull, dark, unimaginative auras. They just won't like being around you.
How to Attract Wonderful People
When you radiate light and unconditional love, other people with good hearts are magnetically attracted to you. After all, like attracts like, even in the physical world, so why not be surrounded by friends with simply wonderful hearts?
If you'd like to try a powerful and effective meditation technique right now, here it is:
https://www.spiritualdynamics.net/articles/meditation/
Tell a friend…