by Owen K Waters
Wouldn't it be just great if life suddenly became a lot easier? What if, instead of working hard to complete a project, it all just flowed together in one easy-moving path towards perfect completion?
Such is the promise of the Eastern philosophy of Wu Wei ("Woo-Way"), which promotes the idea of "doing by not doing." When nothing is done, it says, nothing is left undone.
When nothing is done… excuse me? When I first encountered this stark contradiction I became seriously worried about my brain cells short-circuiting and melting. The more I thought about it, the more convinced I became that I was starting to smell smoke coming out of my ears!
Later, at an older and riper age, I began to see the idea behind the apparent contradiction. The alternative translation of "action without effort" instead of "doing by not doing" helped to clarify the original idea. I came to realize that if, instead of trying to make something happen by the usual efforts of planning, willpower and determination, you go within and see the action accomplished, then something very different happens. The action doesn't mysteriously become accomplished by non-effort, but you experience a state of flow which enables you to move through the task with ease, grace and incredible efficiency.
A leading light in positive psychology today is Hungarian-American professor Mihaly Csikszentmihalyi. (In case you're wondering, his last name is pronounced, "Cheek-sent-me-high-ee.") His focus on happiness and creativity led to the concept of flow, which is a state of concentration or complete absorption in an activity. He points out that developing a state of flow leads to higher skill development and the ability to meet higher challenges within a chosen field.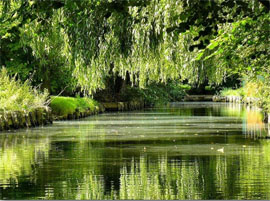 The message of Wu Wei is to develop exactly such a state of flow and to do it by developing deeper states of inner awareness.
The easiest way to invoke a state of flow, therefore, is to go within, attune with your inner being and the intended task, then come out into the world of action and carry out your intuitive guidance every step of the way until the task is completed.
In a state of flow, the action is guided from within and the doer virtually vanishes into the deed.
The key to creating the desired state of flow is that, because your inner being is fully attuned with the universe, you can then act in a manner which is perfectly aligned with all other circumstances related to your work. This is how synchronicity happens and coincidences become commonplace in your life. People, ideas and materials all come together at the exact right time and in the right place because flow is an orchestration of the many, not just the one.
You can be the main person conducting the work, but the universe responds to your inner connection and brings to you everything that you need with effortless coincidence.
The message of Wu Wei is that there is a time and a place for everything to come together for effortless achievement. By intending a goal and connecting with your inner being, you start the creation of that perfect time and place by attracting all the resources you need to achieve the goal. Then, by acting exactly when the energy feels right, you express the flow of ideas and energy which pour forth from your inner being.
Achievement becomes effortless, and the realm of being has become manifest in the world of action. You will have achieved success by alignment with the realm of not doing.
Owen K Waters is the author of Freedom of the Spirit: Four Powerful Steps to Spiritual Freedom.
Tell a friend…